*This post may contain affiliate links. As an Amazon Associate we earn from qualifying purchases.
For those interested in pursuing a career as an ultrasound technician, education and training is available in Virginia. Virginia offers some of the best and most affordable health care in the country and places a premium on health equity and high quality medical services for all its citizens. The same philosophy holds true for its accredited sonography technician schools.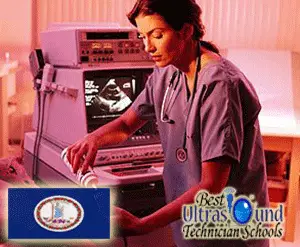 The state itself offers a great place to work and live. Recreational opportunities abound from visiting Virginia Beach to skiing in the Blue Ridge Mountains. There is a wealth of history to explore at early American settlements like Jamestown and Williamsburg. The nation's capitol, Washington, DC., is within a day's drive for all citizens. Virginia attracts people from all walks of life and continues to be a good state for people to find jobs and raise families. As these same residents will eventually need health care, it is also a great place for ultrasound sonographers to find employment.
Sonography Education in Virginia
Medical sonographers are trained to use ultrasound equipment to produce sonograms or pictures of internal human structures. The most common reasons to have an ultrasound include: Observing and measuring the growth of a fetus, diagnosing internal problems such as pelvic bleeding or locating internal abnormalities.
Curriculum in this field includes: mastering knowledge about how to use ultrasound equipment properly; assessing internal structures of the human body; and diagnosing pathologies. Candidates also train in on-site settings. Programs vary in length: 1 year for a certificate, 2 years for an associate degree, and 4 years for a baccalaureate degree.
Candidates can start working in the field with qualifying certification. Though Virginia currently does not require licensing, it is advised that all ultrasound sonographers receive credentialing by the American Registry for Diagnostic Medical Sonography. Having credentials from ARDMS will provide a wider range of job opportunities.
[qs_listing areaofinterest="SONOGRAPHY-ULTRASOUND-TECHNOLOGY" state="VA" multidealer="yes"]
Salaries and Outlook for Ultrasound Careers in Virginia
Jobs in ultrasound technology are in high demand and on the upswing in Virginia. The last published statistics from the Bureau of Labor indicated that the growth in this field will be faster than average at 39% between 2012-2022. Salaries vary by region, but median pay across the state for 2012 was reportedly $70,840.
Diagnostic Medical Sonography Programs in Virginia
Virginia has a number of top rated choices for education in ultrasound technology. All of Virginia's programs are associated with regional or area hospitals to afford students full diagnostic training and experience. These schools are also accredited through the Commission on Accreditation of Allied Health Programs (CAAHP) or recognized by the American Registry of Radiology Technologists (ARRT).
Northern Virginia Community College: Accredited Associates Degree Program in General Sonography (CAAHEP Accredited and ARRT Recognized)
Tidewater Community College: Accredited Associates Degree Program in General Sonography (CAAHEP Accredited)
Southside Regional Medical Center in Petersburg: Accredited Associates Degree Program in General Sonography (CAAHEP Accredited and ARRT Recognized)
Piedmont Virginia Community College (ARRT Recognized)
ECPI University, Newport News (ARRT Recognized)
Medical Sonography Classes in Virginia
NAME
ADDRESS
WEBSITE
University of Virginia (UVA)
1827 University Avenue
Charlottesville, Virginia 22903
United States
www.virginia.edu
Shenandoah University (SU)
1460 University Dr
Winchester, Virginia 22601
United States
www.su.edu
Piedmont Virginia Community College
501 College Drive
Charlottesville, Virginia 22902
United States
www.pvcc.edu
Tidewater Community College
121 College Place
Norfolk, Virginia 23510
United States
www.tcc.edu
Northern Virginia Community College
4001 Wakefield Chapel Rd
Annandale, Virginia 22003
United States
www.nvcc.edu
Southside Regional Medical Center Professional Schools
737 South Sycamore Street
Petersburg, Virginia 23803
United States
www.srmconline.com
Ecpi University
1001 Omni Blvd Ste 200, Newport News 23606
www.ecpi.edu