*This post may contain affiliate links. As an Amazon Associate we earn from qualifying purchases.
If you've been thinking of a career as a sonography tech, there are plenty of high-quality sonography schools in Pennsylvania — a state brimming with United States history. Attending school in Pennsylvania means you get access to some of the country's best hospitals, medical centers and private practices, offering plenty of opportunity for good-paying jobs and advancement. Diagnostic medical sonographers  use imaging equipment to not only assess but help diagnose a range of medical conditions. Most sonography tech work within hospitals and medical centers.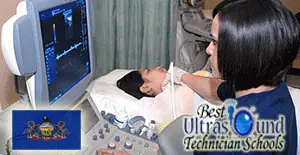 Although you don't have to be licensed as a sonography tech  in the state of Pennsylvania, it's recommended you become certified for access to the best jobs. With certification under your belt, you will have the skills necessary to perform a range of ultrasonography duties. From Penn Medicine to the University of Pennsylvania med school, there are many opportunities after you are certified to hone your skills. Schools within Pennsylvania include Sanford-Brown Institute in Bensalem Township, Northampton County Area Community College in Bethlehem, Misericordia University in Dallas, Harrisburg Area Community College-Harrisburg in Harrisburg, Lancaster General College of Nursing in Lancaster, and Thomas Jefferson University in Philadelphia.
If you are searching for ultrasound technician schools in Pittsburgh PA in particular, check out the Community College of Allegheny County, which offers certifications and associates degrees in diagnostic medical sonography and sonographer and ultrasound technician courses. Nearby, Sanford-Brown Institute offers associates degrees in the same fields. Financial aid is available at both schools, with tuition rates varying by commuters or room-in.
Sonography tech schools in Philadelphia, the state's biggest city and home to about 1.5 million people. Famed for its pivotal role in the American Revolution, this city served as a central meeting spot for the country's Founding Fathers, and it's where the Declaration of Independence was signed in 1776. You can attend the historic Thomas Jefferson University on Walnut Street, which offers certification and bachelor's degrees in diagnostic medical sonography/sonographer . Financial aid is available and tuition varies on type of program and rooming situation.
In your search for quality ultrasound tech schools in PA, you will find many programs to suit your needs, budget and geographical requirements. According to the Bureau of Labor Statistics, diagnostic medical sonographers make a median pay of about $64,380 per year — nearly $40 per hour. Employment in this sector is projected to grow by 44 percent between now and 2020, a faster-than-average growth across all occupations. This means you can be confident in your quest to become an ultrasound tech in this state, with a demand for jobs that can provide a certain level of job security.
Sonography  schools in PA can help you prepare for a career in sonography tech, giving you access to the most technologically advanced systems used in the United States. Whether you get an associate's degree or post-secondary certificate, you'll find that most employers within the state and across the country require professional certification of some kind.
Medical Sonography Classes in Pennsylvania
NAME
ADDRESS
WEBSITE
Carnegie Mellon University (CMU)
5000 Forbes Avenue
Pittsburgh, Pennsylvania 15213
United States
www.cmu.edu
Pennsylvania State University (PSU)
201 Old Main
University Park, Pennsylvania 16802
United States
www.psu.edu
University of Pittsburgh – Pittsburgh Campus
4200 Fifth Avenue
Pittsburgh, Pennsylvania 15260
United States
www.pitt.edu
Misericordia University
301 Lake St
Dallas, Pennsylvania 18612
United States
www.misericordia.edu
Drexel University (DU)
3141 Chestnut St
Philadelphia, Pennsylvania 19104
United States
www.drexel.edu
Temple University (TU)
1801 North Broad Street
Philadelphia, Pennsylvania 19122
United States
www.temple.edu
Pennsylvania College of Health Sciences
410 N Lime Street
Lancaster, Pennsylvania 17602
United States
www.lancastergeneralcollege.edu
South Hills School of Business & Technology
480 Waupelani Dr
State College, Pennsylvania 16801
United States
www.southhills.edu
Great Lakes Institute of Technology
5100 Peach Street
Erie, Pennsylvania 16509
United States
www.glit.edu
Sanford-Brown Institute-Pittsburgh
421 Seventh Avenue
Pittsburgh, Pennsylvania 15219
United States
www.sanfordbrown.edu
Sanford-Brown Institute-Trevose
3600 Horizon Blvd., Suite GL1
Trevose, Pennsylvania 19053
United States
www.sanfordbrown.edu
Lackawanna College
501 Vine St
Scranton, Pennsylvania 18509
United States
www.lackawanna.edu
Northampton County Area Community College
3835 Green Pond Rd
Bethlehem, Pennsylvania 18020
United States
www.northampton.edu
Harrisburg Area Community College-Harrisburg
1 HACC Dr.
Harrisburg, Pennsylvania 17110
United States
www.hacc.edu
Community College of Allegheny County
800 Allegheny Ave
Pittsburgh, Pennsylvania 15233
United States
www.ccac.edu
Westmoreland County Community College
145 Pavilion Lane
Youngwood, Pennsylvania 15697
United States
www.wccc.edu
Thomas Jefferson University
1020 Walnut Street
Philadelphia, Pennsylvania 19107
United States
www.jefferson.edu
Crozer-Chester Medical Center (Keystone)
One Medical Center Blvd, North Campus Room 214A, Upland 19013
www.crozer.org
Pennsylvania College of Health Sciences
410 North Lime Street, Lancaster 17602
www.pacollege.edu
Mount Aloysius College
7373 Admiral Peary Highway, Cresson 16630
www.mtaloy.edu