Medical sonography is a field that continues to grow every year, and is expected to see excellent growth in the future, according to the U.S. Bureau of Labor Statistics. Individuals interested in obtaining sonography tech training in Utah have come to the right place. Read below to learn more.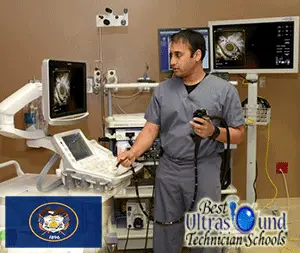 According to the National Center for Education Statistics and Education News, the only sonography tech  school in Utah is Weber State University, which is located in Ogden, Utah. The university is accredited by the Northwest Commission on Colleges and Universities. This school meets the accreditation requirements for certification that are set by the American Registry of Radiologic Technologists (ARRT).
Sonography Education 
The sonography program at WSU is designed for students who are already ARRT-registered technologists or have equivalent trained as determined by the school's Department of Radiologic Sciences. The program offers areas of emphasis, so some of the courses required will depend on the student's emphasis area. The classes, some of which are available online, are a combination of general education courses, diagnostic medical sonography courses, radiography courses, support courses and emphasis courses.

Course topics may include patient care and assessment; sonography principles and instrumentation; sectional anatomy; and vascular, cardiac and abdominal sonography. In addition to the courses, students must complete at least 24-clock hours of clinical training each week at an approved medical facility. Graduates are eligible to sit for American Registry of Diagnostic Medical Sonographers national certification exams, as well as the ARRT certification exam in sonography. Utah requires their sonographers to be licensed. Licensures are valid for one year; technicians must complete continuing education credits to maintain licensure. 
Fortis Institute can give you the skills you need to train for a career in the healthcare field.
* Programs vary by location
* Please contact each individual campus for accreditation information
Programs:
Medical Assisting Basic X-Ray Technician - Associates
Kaplan University is focused on recognizing the achievements of military and veteran students and offers the flexibility of an online education. Eligible students can receive college credit for prior military experience and coursework—up to 75 percent of the credit needed for a Kaplan University undergraduate degree.*
Programs:
Health Information Management
Associate's, Bachelor's, and Master's degrees available in a wide range of fields.
Flexible online programs offered in Psychology, Criminal Justice, Education, and more.
Assigned Financial Services Advisors to help answer student financial questions.
Servicemembers and their spouses can apply for the Ashford Military Grant to reduce tuition for all undergraduate courses.
Programs:
B/S Health Information Management
The Secret to Getting Ahead is Getting Started
Congratulations! Your interest in Stevens-Henager College is an important first step toward changing your life. A career-focused degree is the key to a new career with a potentially higher income, better benefits, and more satisfaction.
Programs:
Surgical Technologist (AOS)
Health Information Management (BS)
Give your career a boost with an education from Southern New Hampshire University. We offer certificates, bachelor's, master's, and doctoral degrees in over 100 programs in a wide variety of subjects.
Programs:
IMBA - Healthcare Informatics
Study for your graduate education with University of Illinois at Chicago. We offer master's degree and post-master's certificate programs in health informatics that can be completed 100% online.
Programs:
Master of Science in Health Informatics
Discover the Difference a Community of Support Makes in Your Educational Journey. From Application to Graduation, the Support You Need to Achieve Your Goals. 100% Online.
New England College was founded in 1946 to educate soldiers coming home from war. The same great support system that welcomed returning GIs is still a hallmark of NEC today. From enrollment services representatives who'll guide you through the application process to interactive tools that help you collaborate with instructors and classmates, NEC inspires you to reach the milestones of your educational journey.
Programs:
BS in Healthcare Administration/Health Informatics
Designed with the needs of working adult students in mind, South University, Online Programs is built on the similar curriculum offered at South University's campus locations. As a student at South University, Online Programs you will receive the same quality instruction, variety of learning options and level of service found at the campus locations.
Programs:
Specialization in Nursing Informatics (MSN)
Salaries for Sonographer in Utah
Although Salary.com states there is a lot of variation in sonography tech wages in Utah, the U.S. Bureau of Labor Statistics reports that the 400 sonographers employed in Utah, as of May 2012, earned a mean annual wage of $66,060. This figure is very close to $66,360, which is the mean annual wage earned nationwide for this profession. Salaries may vary by city, degree earned, certifications obtained and level of experience. 
List of Diagnostic Medical Sonography Programs 
WSU offers a Bachelor of Science in Diagnostic Medical Sonography that offers students three areas of emphasis: cardiac, medical or vascular sonography. The cardiac and medical programs each take four semesters to complete, while the vascular sonography emphasis can be completed in three semesters and a summer session. WSU also offers certificates of completion in various advanced radiology areas, including medical sonography – cardiac and diagnostic medical sonography – medical, among others.


Medical Sonography Classes in Utah
NAME
ADDRESS
WEBSITE
Brigham Young University - Provo (BYU)
Main Campus
Provo, Utah 84602
United States
www.byu.edu
University of Utah
201 Presidents Circle, ROOM 203
Salt Lake City, Utah 84112
United States
www.utah.edu

Weber State University
3848 Harrison Blvd
Ogden, Utah 84408
United States
www.weber.edu