You have decided to become a sonography tech while loving in Tennessee. What you need to know is where to earn your training and how much you can expect to make.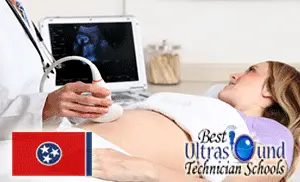 When wanting to find an accredited sonography tech school in Tennessee, you have several options. Choose from Baptist Memorial College of Health Sciences in Memphis, Chattanooga State Community College or Volunteer State Community College in Gallatin. All of these are specifically accredited programs in diagnostic medical sonography. There are three other programs mentioned in Tennessee as well. Vanderbilt University in Nashville admits a handful of students into its Diagnostic Medical Sonography Certificate program. Anthem Career College offers a limited scope degree program as an x-ray technician. South College in Knoxville also offers a Diagnostic Medical Sonography associate's degree. 
Sonography Education 
Baptist Memorial offers Tennessee's only Bachelor's Degree in Medical Sonography. Expect to take classes in abdominal, gynecological, obstetric and vascular sonography. Echocardiography and neurosonography are other courses. To earn a certificate in either general or cardiovascular sonography at Chattanooga State, you must first an Associate of Science or Associate of Applied Science. Students take imaging courses, healthcare courses and participate in clinical experiences here. Similar to Chattanooga State, Volunteer State requires an associate degree in a patient care-related field or a bachelor's in any area. Students learn about abdominal, obstetric, gynecological and small parts scanning.
At South College we welcome students from all different stages of life and career. Whether you are pursing a degree for the first time, going back to school as an adult learner, or furthering your career with an advanced degree, our faculty and staff will partner with you to give your dreams direction.
Programs:
BS Health Science w/Con Diagnostic Medical Sonography (Ultrasound)
AS Diagnostic Medical Sonography (Ultrasound)
AS Diagnostic Medical Sonography
And more...
Kaplan University Online Degree Programs
Attend college on your terms. Kaplan University offers fully online degree programs that fit any schedule.
Programs:
Health Information Management
Miller-Motte Technical College (MMTC) has a history of helping students succeed through hands-on education and career training. Our faculty and staff work to ensure that when you've completed your program, you're truly ready to begin your career.
Programs:
Surgical Technology - Associate of Applied Science
Adelphi University's roots reach back to 1863 and the founding of the Adelphi Academy, a private preparatory school in Brooklyn, New York. The Academy was incorporated in 1869 and its Board of Trustees was charged with establishing a first class institution for the broadest and most thorough training, and to make its advantages as accessible as possible to the largest numbers of our population. The school quickly gained a reputation for its innovative curriculum, particularly in physical culture and early childhood education.
Programs:
Master of Science in Healthcare Informatics
The University
With over 80 years of academic achievements, Jacksonville University is a traditional, longstanding institution consistently ranked by U.S. News & World Report as one of America's best colleges.
Salaries for Sonographer
Median salaries for ultrasound technicians in Tennessee are about $54,000 per year with the higher end of technicians making about $74,000 and the lower end making about $39,000. 
List of Diagnostic Medical Sonogrpahy Programs 
Baptist Community College offers two related degree programs. These include a Bachelors in Health Science with a major in Medical Sonography and a Bachelors in Health Science with a major in Medical Radiography. Chattanooga State Community College has four programs and certificates: Associate of Applied Science in Radiologic Technology, Cardiovascular Sonography Technical Certificate of Credit, Diagnostic Medical Sonography Technical Certificate of Credit and Magnetic Resonance Imaging Technical Certificate of Credit. Volunteer State Community College has two programs, which include Associate of Applied Science in Radiologic Technology and Certificate of Completion in Diagnostic Medical Sonography. You have several options to become a diagnostic medical monographer in Tennessee by looking into one of these programs and colleges. 
Medical Sonography Classes in Tennessee
NAME
ADDRESS
WEBSITE
Vanderbilt University (VU)
2101 West End Avenue
Nashville, Tennessee 37240
United States
www.vanderbilt.edu
Baptist Memorial College of Health Sciences
1003 Monroe Ave
Memphis, Tennessee 38104
United States
www.bchs.edu
Chattanooga State Community College
4501 Amnicola Highway, CBIH-124, Chattanooga, TN – 37406
www.chattanoogastate.edu
Volunteer State Community College
1480 Nashville Pike
Gallatin, Tennessee 37066
United States
www.volstate.edu
Methodist Le Bonheur Healthcare
1265 Union Avenue, Memphis, TN – 38104
www.methodisthealth.org
Volunteer State Community College
1480 Nashville Pike, Gallatin, TN – 37066-3188
www.volstate.edu