*This post may contain affiliate links. As an Amazon Associate we earn from qualifying purchases.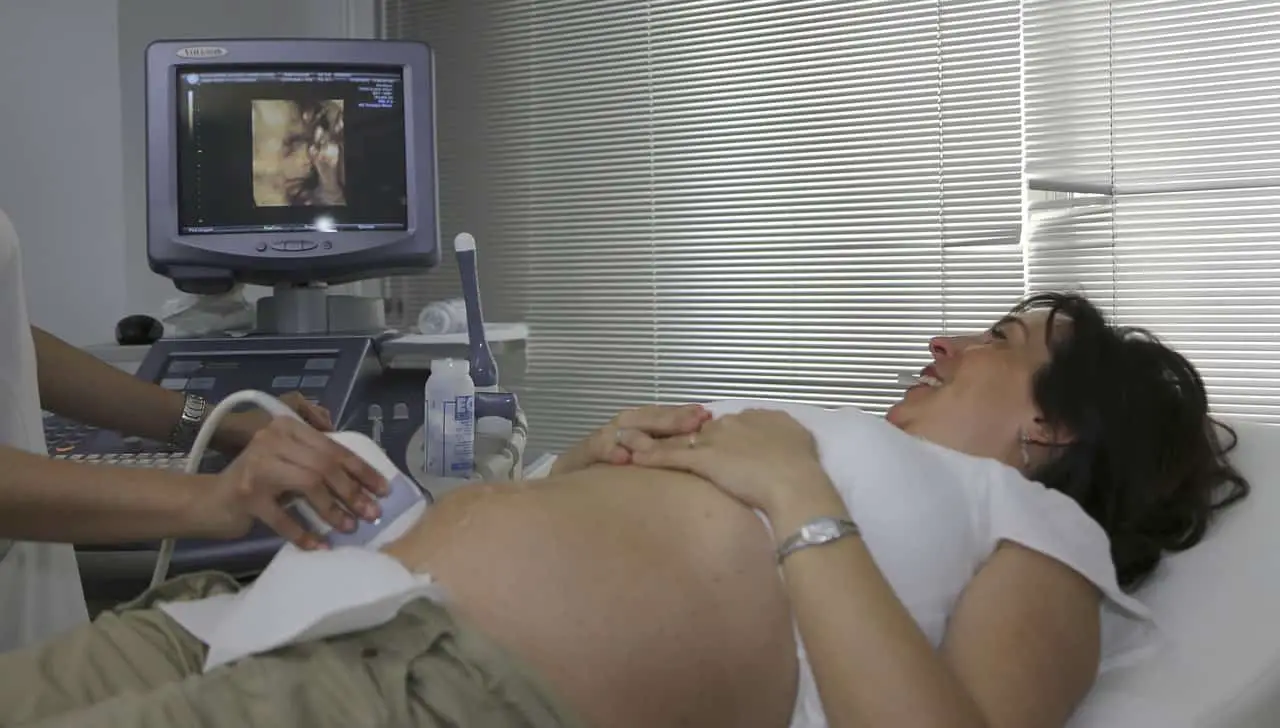 Ultrasound technicians operate equipment that uses sound waves for creating images of the body's internal structures. The technology is often used in obstetrics, but can also be used in diagnosing other medical conditions. An ultrasound technician is rewarded with a mean annual salary of approximately $70,000. The job outlook is great, and growth forecast is about 26%. So how do you become an ultrasound technician? This article highlights vital career information of how to become an ultrasound technician for you to kick-start this career.
How to Become an Ultrasound Technician?
What Is the Job?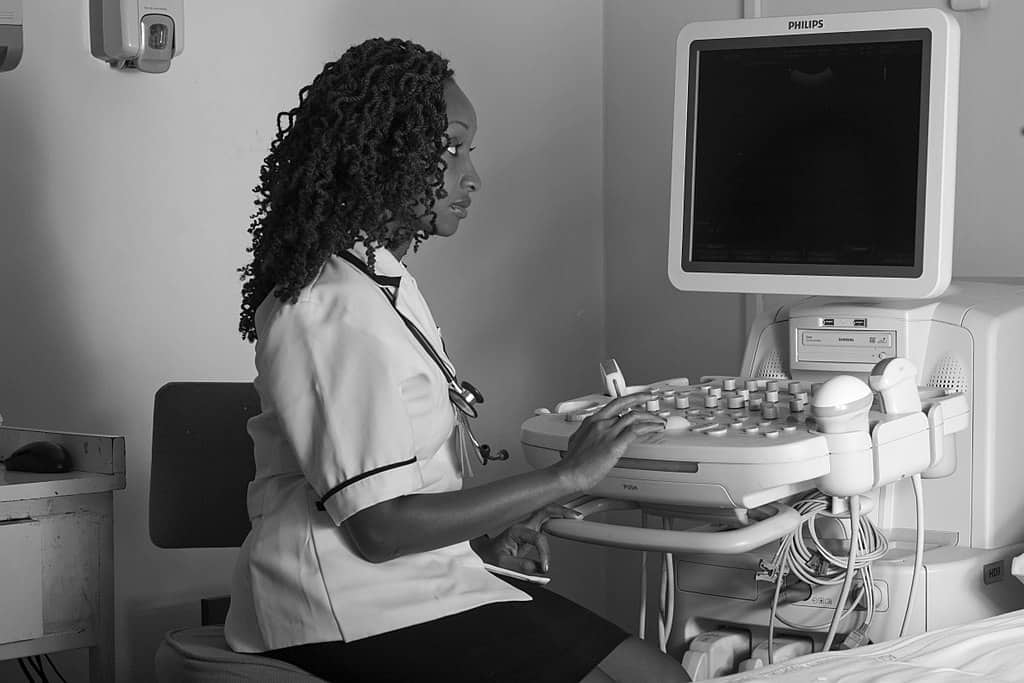 Image from Wikimedia Commons
Ultrasound technicians, also referred to as diagnostic medical sonographers, typically utilize ultrasound technology in examining the health organs of a person, as well as a developing fetus in the womb. By operating ultrasound technology equipment, they can record and produce images or conduct tests. The images obtained are used by physicians in making a diagnosis.
Therefore, their work plays a crucial role in helping doctor among other medical practitioners to diagnose and treat medical conditions. In addition, they help in determining the health status of a mother and the development progress of a fetus during pregnancy. To pursue a career as an ultrasound technician, you must first study about human anatomy and receive extensive training on how to use ultrasound technology.
While many individuals are familiar with the significance of an ultrasound technician in relation to pregnancy, there are other uses. Sonograms can also be used in examining the breast tissue, ligaments, muscles, brain and spinal cord, tendons, and joints, as well as organs within the abdominal cavity.
 Choosing a Specialization
Just like any other allied medical and healthcare career, it is possible that an ultrasound technician specializes in sonography. For instance, cardiac sonographers are responsible for the production of images of the heart, it chambers, as well as the valves and vessels. On the other hand, a vascular sonographer who does tasks similar to a cardiac sonographer focuses on blood flow and blood vessels. Other specialization areas include:
Breast
Abdominal
Pediatric
Musculoskeletal
Gynecologic & obstetric
Other Concerns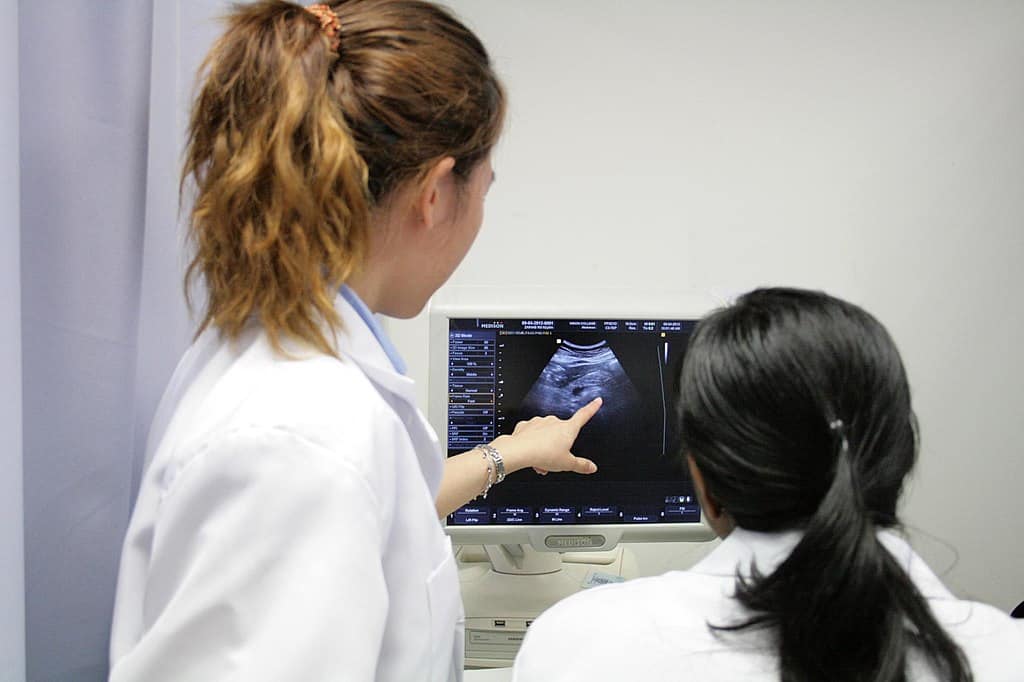 Image from Wikimedia Commons
The job of an ultrasound technician is more than just image production. It also entails interacting with patients as you prepare them for the ultrasound procedure. The technician should also be keen to differentiate between abnormal and normal images. In addition, they must also be able to analyze diagnostic information and provide it to the physician. You will work in a physician's office and in laboratories, but before getting there, you must earn an ultrasound technician education. The program options include taking:
1-year certificate or diploma
2-year associate's degree
4-year bachelor's degree
The Schooling
 Ultrasound Technician Schools
Schools offering ultrasound certification are located throughout the country. So how do you know the college you choose will give you the education you need? You need to ensure that the university or college is accredited, whether it has high-tech facilities, and whether it partners with other organizations for external opportunities.For accreditation, you need to look for institutions that are accredited by the Joint Review Committee on Education in Diagnostic Medical Sonography (JRC-DMS), the Commission on Accreditation of Allied Health Education Programs (CAAHEP) or any other regional accrediting agency.

High-tech facilities are necessary since ultrasound technicians work with state-of-the-art equipment daily. Therefore, the institution of your choice should offer training and instruction in high-tech facilities.Pertaining to external opportunities, the institution you choose should have partnered with labs or medical facilities for externships since you will need real-life experience. You will learn about the challenges of the career and ask questions, which will enable you to learn better.The following institutions offer programs of how to become an ultrasound technician:
American Institute – Diagnostic Medical Sonography–offers Diagnostic Medical Sonography (General Concentration)
Keiser University Campus–offers diverse ultrasound programs including Associate and Bachelor's degrees
Argosy University–offers diverse ultrasound programs for Associate degrees
Ultrasound Technician Bachelors Degree

A degree in Diagnostic Medical Sonography is essential in providing you with the education and training you need to start your career. Getting a sonography degree will help you complete certification exam via the American Registry for Diagnostic Medical Sonography (ARDMS), which is the leading credential that clinics and hospitals consider when hiring ultrasound technicians.Even though most ultrasound technicians hold an associate degree, you can choose to pursue the bachelor's program to advance your education. The additional schooling allows you to strengthen your problem-solving skills and allows you to get involved with projects and research. You can even go on to pursue a career in medicine.If you have not completed general completion courses, including English composition, social sciences, or college algebra you will be needed to complete them when pursuing the BS degree. The professional courses of how to become an ultrasound technician include:
Breast sonography
Healthcare management
Healthcare systems
Musculoskeletal sonography
Fetal echo, pediatric and neonatal sonography
You will spend a lot of time in a laboratory setting, and most of the institutions require externships at a local medical laboratory or facility. The following are specializations on how to become an ultrasound technician:
Abdominal sonography
Echocardiography
Vascular technology
Obstetric sonography
Ultrasound Technology Associate's Degree
An associate degree in ultrasound sound technology takes 2 years (18-24 months) to complete. The degree can open the door to an entry-level position in the field. You will learn more about the equipment as well as patient care education. Ultrasound technicians interact closely with individuals all day, and it is paramount that they grasp how to interact effectively with patients of varying diversities. Besides, mastering legal, ethical, and regulatory subjects is also necessary.The prerequisites vary from one institution to another. Sometimes, schools require the completion of college-level biology and medical terminology course. An Associates Sonography Degree blends in coursework with hands-on clinical rotations. You have an opportunity to specialize in:
General (abdomen, obstetrics, and gynecology) sonography
Vascular sonography
Cardiac sonography
Certificates
If you aspire to be an ultrasound technician, you can opt to earn a certificate. However, the certificate is intended for people who already have a college education. The program range is 12-18 months, depending on the institution. To enroll in a certificate program, you need one of the following prerequisites:
Associate's degree in an allied health program, for example, a registered nurse or occupational therapy assistant
Bachelor's degree in any major
Although the certificate program is shorter compared to the degree, you can still gain hands-on experience through clinical practicums.
Certifications & Other Requirements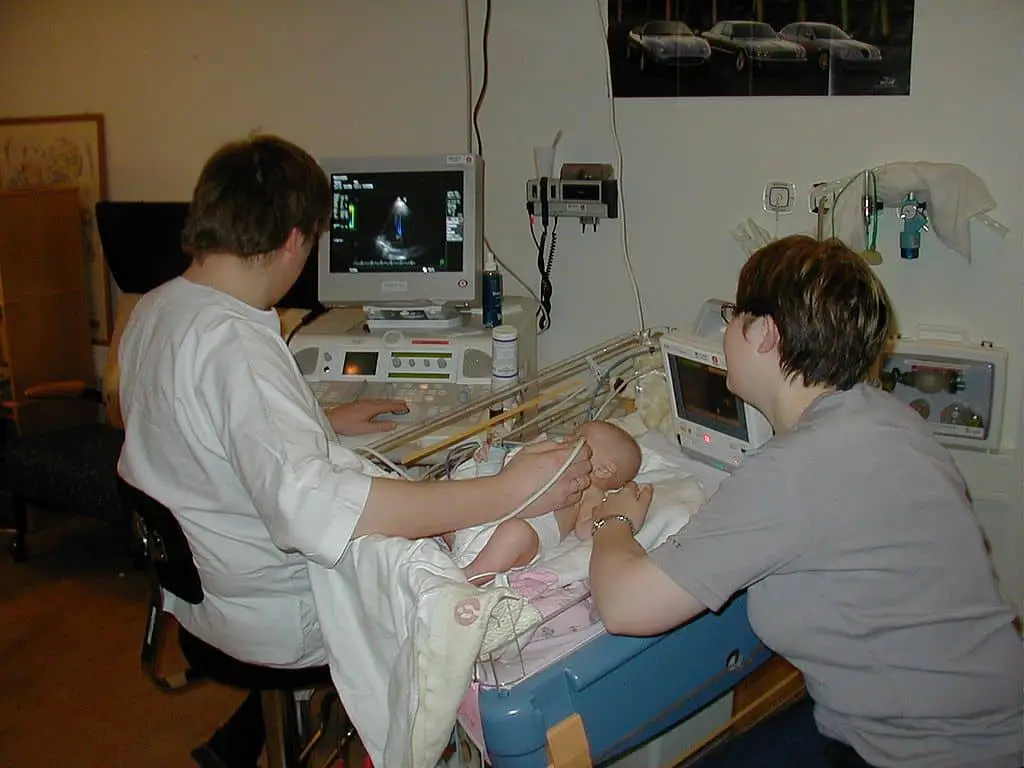 Image from Wikimedia Commons
Most states (with the exception of New Mexico, New Hampshire, Oregon, and North Dakota) require certification. Of note is that the certification provides an ultrasound technician with a professional assessment of their skills that employers typically prefer. Certification bodies include ARDMS and CAAHEP.
ARDMS
Certification or registration as an ultrasound technician can be obtained by passing as the ARDMS certification exam. ARDMS is one of the most recognized ultrasound licensing organization in the US and the world. The organization offers certification in various areas of specialty, including vascular, abdomen, and breast sonography. Certified sonographers and ultrasound technicians should participate in continuing education to maintain their certification.
CAHEEP
The Commission on Accreditation of Allied Health Education Programs (CAHEEP) accredits 2,100 post-secondary education programs in the US. You need to attend a CAHEEP-accredited ultrasound institution. The certification is recognized by the Council for Higher Education Accreditation (CHEA). The CAHEEP constitutes member organizations in the health science fields and provides valuable input in accrediting education programs.There are various ultrasound certification programs available to ultrasound technicians who wish to earn a credential in a specific sonography area. Of note is that the ARDMS offers various ultrasound certifications in vascular technology, OB/GYN, neurosonology, echocardiography, as well as breast and abdomen sonography.Other organizations that administer ultrasound technician licenses include:
Cardiovascular Credentialing International (CCI), which offers in phlebology, vascular, and cardiac sonography
Ultrasound Guidelines Council (UGC) certifies ultrasound technicians and their practices that perform ultrasonography of beef cattle
Joint Commission on Allied Health Personnel in Ophthalmology (JCAHPO) offers ophthalmic (eye) ultrasound certifications
Additional Requirements
In addition to the ARDMS certification, ultrasound technicians can apply for sonography certification via the American Registry for Radiologic Technologists (ARRT). Completing an ultrasound program from accredited schools (USDE or CHEA) within the last five years makes you eligible to sit for the ARRT accreditation exam.To maintain an ultrasound license, the candidate should also abide by the ARRT's Rules of Ethics. In addition, an ultrasound practice can be accredited via the American Institute of Ultrasound in Medicine (AIUM).
Conclusion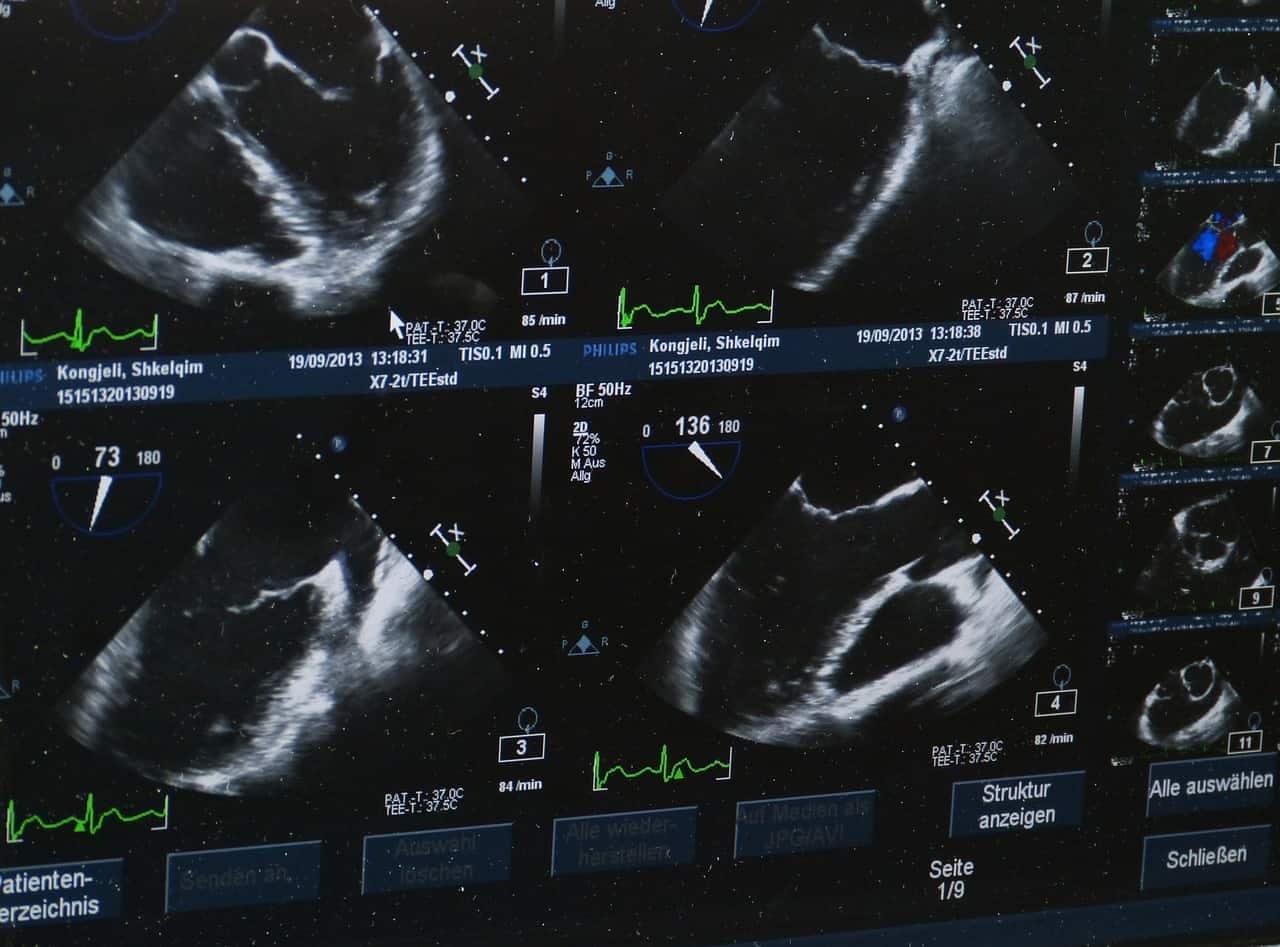 This content addresses the question of how to become an ultrasound technician. Ultrasound technician career is more than just image production. You will be required to interact with patients as you prepare them for the ultrasound procedure. Before being certified you need a bachelor's or associate's degree, but there are institutions that offer certificates if you already have a college education.
Certification or registration as an ultrasound technician can be obtained by passing an ARDMS certification exam. Ultrasound technicians can also apply for sonography certification via ARRT, but you need to first complete an ultrasound program from accredited schools within the last five years makes you eligible to sit for the ARRT accreditation exam.