*This post may contain affiliate links. As an Amazon Associate we earn from qualifying purchases.


As of 2014, Arkansas has two institutions of higher learning that provide ultrasound technician programs. They are Arkansas State University (ASU), the University of Arkansas Fort Smith (UAFS), and the University of Arkansas for Medical Sciences (UAMS). However, only the training program at UAMS is accredited by the Commission of Accreditation of Allied Health Education Programs (CAAHEP). ASU offers its program through its College of Nursing and Health Professions, UAFS through its College of Health Sciences, and UAMS through its College of Health Professions.
List of Ultrasound Tech Schools near Arkansas
Featured Program: University of Arkansas Fort Smith

Image Source: cappex.com
At the University of Arkansas Fort Smith, students have enormous goals and aspirations and the teachers are extremely professional and willing to spread and share their knowledge and skills. Students learn the basics of sonography and work their way up to becoming the best in the business and make themselves very marketable for the many entry level job positions that are available in that branch of the medical industry. Students learn anatomy, sonography, instrumentation, and take part in practice, seminar, and eventually perform clinicals to ensure they are ready for the job of a sonographer. If a satisfying and lucrative career in the digital imaging and sonography branch of the medical field sounds appealing to you, enroll yourself with University of Arkansas Fort Smith today!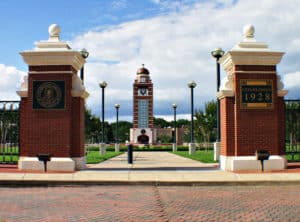 Image Source: encyclopediaofarkansas.net
[qs_listing areaofinterest="SONOGRAPHY-ULTRASOUND-TECHNOLOGY" state="AR" multidealer="yes"]
SONOGRAPHY EDUCATION
Ultrasound technician training programs in Arkansas are offered to undergraduates as Bachelor of Science (B.S.) degrees, often abbreviated as DMS programs. The curriculum is in a six-semester format (Fall, Spring, and Summer), which can be completed in two years. Typical subject areas in an Arkansas DMS program include basic patient care, sectional anatomy, medical imaging, legal and regulation policies and procedures, and abdominal, cardiovascular, and obstetrics-gynecology (OB/GYN) sonography. The program is usually preceded by some general educational requirements or prerequisites, which include introductory courses in ultrasound and human anatomy & physiology.
Also included among the core courses are five ultrasound clinics or practical sections to give students hands-on experience or practical knowledge. Number of credits required for graduation vary depending on the school. For instance, UAMS requires 72 credits in total with 20 courses, while ASU has almost 30 courses in its curriculum. Upon graduation, ultrasound technician students are awarded the B.S. degree in Diagnostic Medical Sonography. At ASU, emphasis is placed on the abdominal and OB/GYN specializations.
SALARIES FOR ULTRASOUND TECHNOLOGISTS
According to the U.S. Bureau of Labor Statistics (BLS), diagnostic medical sonographers in Arkansas had a median yearly income of $57,700 ($27.76/hour) in 2012. In that same year, the bottom 10 percent took home $40,200 a year ($19.34/hour), while the top 10 percent made $76,900 ($36.96/hour). The BLS recorded 360 sonographers in the state in 2010; the agency expects that number to grow by 23 percent–up to 440–between then and 2020
LIST OF DIAGNOSTIC MEDICAL SONOGRAPHY PROGRAMS


Arkansas State University-Jonesboro (State University, AR)

University of Arkansas Fort Smith (Fort Smith, AR)

University of Arkansas for Medical Sciences (Little Rock, AR)
NAME
ADDRESS
WEBSITE
Arkansas State University – Main Campus (ASU)
2105 E. Aggie Road
Jonesboro, Arkansas 72401
United States
http://www.astate.edu/
University of Arkansas for Medical Sciences
4301 W Markham
Little Rock, Arkansas 72205
United States
http://www.uams.edu/
University of Arkansas Fort Smith
5210 Grand Ave., PO Box 3649, Fort Smith, AR – 72913-3649
www.uafs.com
Arkansas State University-Jonesboro
106 N. Caraway Road, PO Box 910, State University, AR – 72467
www.astate.edu